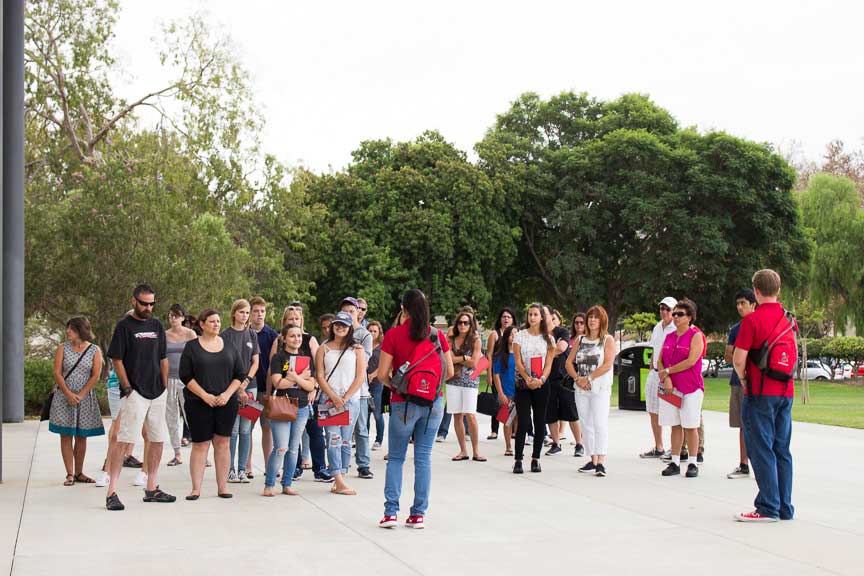 By Jeremy Tiers, Director of Admissions Services 
Each year colleges and universities across the country are tasked with large visit events. It's a recruiting reality that isn't completely going away anytime soon. This despite the fact that we all know individual visits have a much better chance of creating the feelings that many students revert back to when they make their final decisions.
Some like bigger events or a general visit day, so continue to offer one or two of those each year. And group Admitted Student Day events can also still provide value. But my advice, based on all the focus group surveys we continue to conduct, is find a way to offer individual visits whenever possible, especially earlier in the process.
Personalization is arguably the biggest thing that prospective students want more of from colleges during their search process. They want more individual attention from admissions, financial aid, faculty, etc. They like being able to ask private questions and talk about things they might feel uncomfortable talking about in detail with others around.
Give it to them during a 1-on-1 visit and you might get feedback like, "The people on this campus made me feel important and at home right from the beginning. They really took the time to get to know me and help me figure out if this would be the best school."
All that being said, like I mentioned in the first sentence, I'm well aware you're still going to have to host larger events each year. So, let's talk about how you and your colleagues can personalize them and make the best of a challenging situation.
First, I would argue that the potentially best part of a large group recruiting visit is that prospective or admitted students can see other peers excited and motivated to be a part of your school and campus community. It's vital during any visit, especially big events, to define how you're going to create an environment for that to occur. An easy way is to incorporate a fun group activity that includes some current students. Letting those two groups interact and hang out together can be invaluable.
Here are five other pieces of advice about larger visit events:
Don't start the visit with the same old information session/presentation. Most students come to campus with their excitement level up. How are you keeping it there especially during the first 15-30 minutes? Having them sit around and wait while you get organized or taking everyone to a room where they sit and listen to that same old information session/presentation isn't a good strategy. Instead, consider doing your "fair" first with sessions on student life, transition to freshman year (student panel), sessions on specific majors, alumni session, etc. Get them active and create opportunities for students and their parents to engage with your campus community.
Explain why there are so many students on campus. It may seem pretty basic, but we hear a lot of feedback in our surveys from students who say when they see so many other students, it gives them a sense of feeling under-appreciated and "just a number." At some point during the visit, find a way to tell each student how they can set themselves apart from everyone else after the visit ends. What you'll get is immediate feedback from those who are serious about your school and ready to take the next step. Doing this will also help you figure out who is still in the exploratory stage.
Give everyone 30 minutes of "explore" time. In those same focus group surveys, students also tell us that when the entire day is scheduled down to the minute, it leads to feeling over-scheduled and at times overwhelmed. Meeting after meeting, activity after activity can equal exhaustion by the end. And they still haven't had a chance to get a "feel" for your campus. Here's the solution. Incorporate some down time. Let them explore campus or just relax and re-energize. Consider having volunteers stationed around campus in case families walking around get lost or have questions.
Carve out 5-10 minutes at the end for a meeting between the student/family and their admissions counselor (or another admissions staff member). One of the biggest things I reiterate during the staff training workshops I lead is the importance of consistently defining next steps. In this case, what I don't want you to do during that meeting is to ask them 20 questions about their day. Most students are still trying to process everything they just saw along with all of the information they received and conversations they had. Instead, make it clear that you know it was a busy day with a lot of people and a lot of information, so you want to give them some time to process everything and talk things over as a family. Offer to answer any questions they might have now, and discuss setting up a short phone call together in the next 2-3 days. Make it clear that the goal of that phone call will be to answer any questions they have and to have a discussion with their admissions counselor about the student's next step. Keep in mind it's important to get their agreement on this versus telling them they're going to have this call. And if it's impossible to get everyone aside for an individual meeting, prioritize your students. It makes an incredible difference in their feelings about you and your school as they leave campus. Everyone walks away feeling more wanted and important.
After the visit, send a short, hand written note. If you schedule a post-visit call with their admissions counselor, have this note come from someone else they interacted with during their visit – tour guide, faculty member, or another staff member. It doesn't need to be anything lengthy, just something that makes it clear how much that person enjoyed meeting and interacting with student. These notes continue to make a lasting impact and frequently get mentioned in the surveys we conduct prior to a staff training workshop. Here are two from the workshop I led last week:
"I really appreciate hand written notes. Even just quick things. It's so easy to send some mass email, but that's so impersonal. When I know the person writing the letter had to actually write it with their hand to me personally, I really appreciate that."
"Getting a personalized hand written letter gives a touch that other colleges don't provide. I was sent one by my admissions counselor and it made me feel welcomed."
Remember, you build your class one student at a time. When you host larger visit events, the goal should still be to make sure each student (and parent) feels a connection with you and/or other people who make up your campus community.