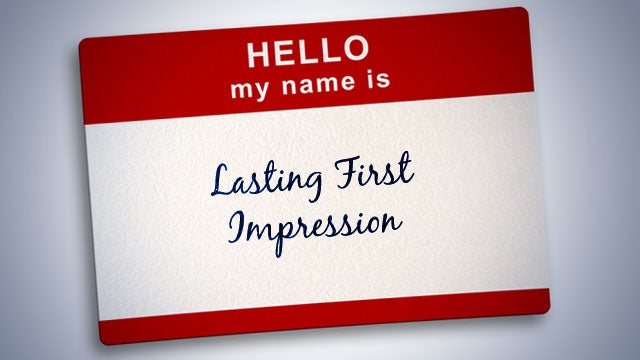 by Jeremy Tiers, Director of Admissions Services
You meet someone for the first time. Immediately after that stranger sees you, his or her brain makes a thousand computations: Are you someone to approach or to avoid? Are you trustworthy, competent or likeable? Studies say all of this happens in the first seven seconds of meeting.
With the competition to attract prospective students at an all time high, colleges and universities across the country have been forced to brainstorm new ways to improve student recruitment.  It's also a fact that recruits are starting the process earlier and they now apply to an average of a dozen schools to assure acceptance.
In most instances, the first contact a prospective student has with a school is through an Admissions Counselor. Believe it or not, many of those students are hesitant to reach out to your staff because as one high school senior put it, "it's scary." Being approachable and memorable then, whether it's at a college fair or during a high school or on-campus visit, is vital for admissions staffs.
It takes both verbal and non-verbal skills to make a great first impression. Here are some tips that will help separate you from the competition.
Greet people by name.
Research indicates that people like to hear their own name. Instead of saying "Nice to meet you," or "Good to see you again," include the person's name. If someone begins a conversation and doesn't tell you their name, simply ask them. It will make a favorable impression.
Listen more then you talk.
It's a fact – people like to talk about themselves. By listening you will pick up pieces of information that allow you to expand the conversation and begin to build a relationship. Listening also shows that you're genuinely interested in the other person's well being.
Smile.
It seems easy, but for some it's also potentially uncomfortable. However, any successful business person will tell you, when you are willing to put a smile on your face, you become more engaging, likable and it helps put the other person at ease.
Eyes on the prize (literally).
Eye contact is extremely important during the first meeting with anyone. Too often people look away and that creates the impression that they're either not listening or they really don't care about what's being said.
Say it like you mean it.
The power of positive thinking. Speak with confidence. It's not just the words you say that matters it's the clarity and tone with which you say them. If you're excited about something, it shows.
Put the phone away.
It was estimated this past year that there are now more mobile devices than people on the planet. The problem – respect has gone out the door. Think about how many times you've been in a conversation with someone only to have it halted when the other person answers his or her cell phone. Turn it off, or put it on vibrate. Voicemail will get it. Giving your undivided attention goes a long way.
Thank you.
Two simple words that people often forget. Not only are you ending the conversation on a positive note, you're also demonstrating that you appreciate the time and effort of the other person.
As the old expression goes, you never get a second chance to make a first impression.
Being memorable and likeable will go a long way in peaking the interest of prospective students, and subsequently result in them wanting to learn more about your institution.
Next time you sit down with a recruit or their parents, implement these proven techniques into your conversation and I'm convinced you will come out a winner.
Communicating effectively is a key factor in successful recruiting. That's why we're making sure our clients get one-on-one attention and the best training possible during our On-Campus Workshops. Our Admissions Recruiting Advantage (ARA) program will provide your staff with the tools to recruit more effectively – and more confidently – than they ever have before, because they will know the right messages and strategies to use based on our proprietary research and training techniques. 
Want to learn more?  Schedule a time to speak to Jeremy by emailing him at jeremy@dantudor.com It's more affordable than you may think, and the results are turning heads on campuses across the country.