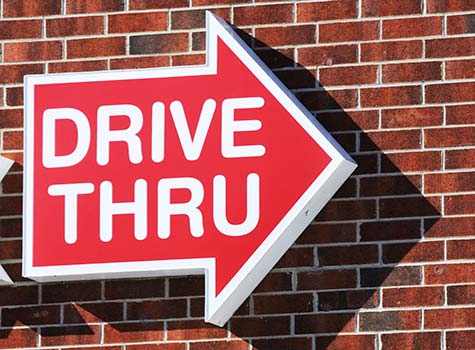 by Jeremy Tiers, Director of Admissions Services
At some point in the past twelve months I'm sure each of you has experienced poor customer service. You know, the kind that frustrates you to no end and you proceed to tell your family, friends and neighbors all about it. Mine occurred a couple of weeks at the drive-thru window of a national fast food chain.
After placing my family's order our first stop was the pay window.  The teenage employee slid open the glass, continued to finish typing on her cell phone and then asked me for the incorrect total. Next we proceeded to the food window. Mistake number one was giving my daughter outdated milk, which thankfully my wife caught because well that's just something that parents look for. Next we had my milkshake, which they mistakenly let me order but couldn't produce because the shake machine was down. When the employee went to fill my wife's Diet Coke that machine stopped mid pour. She and a couple of colleagues spent several minutes staring at the machine as if it was magically going to repair itself. Finally a manager arrived to see what the problem was. After giving each of use alternate drink choices and replacing what we showed was cold food, we finally exited the parking lot. The entire chaotic experience lasted approximately 15 minutes.
Customer service is a critical component to any successful business, including college admissions. Without satisfied customers your enrollment doesn't grow. There is however an even bigger problem to keep in mind. If a member of your team comes across as unpleasant, can't be bothered, or heaven forbid down right rude, in this day and age many complaints are aired through one of the oh-so-public social media platforms.
All of this leads me to ask the following questions. Have you taken a step back and evaluated your office's customer service recently? Is your admissions team consistently meeting the needs of all of your prospective students and their parents? The cost of attending college continues to rise.  Providing average customer service is no longer sufficient. There are too many other options out there for your customers. Both you and your team need to make time to deliver an exceptional customer experience from start to finish. Just like the disgruntled customer takes to social media to vent, the satisfied one will rave about his or her one-of-a-kind experience, and recommend your school to friends, neighbors and work colleagues for years to come.
Let me share you with ten opportunities where you and your team can stand out and deliver exceptional customer service.
Listen more than you talk, especially with younger prospects. We know you mean well when you try and cram every single fact and positive statistic about your school into that first or second conversation with a prospective student. The problem is, it's not helping. Instead, when you listen, your recruits and their parents will share all kinds of information about their wants and needs. You can then take those bricks and use them to build a strong relationship. Listening and giving your undivided attention are both chiefly important to your customer.
Engage your prospect to gain their interest.  Remember the teacher that read things word for word from the textbook? Boring, right. If you're sending long, wordy mailings or always asking yes/no type questions when you talk in person, are you really gaining their interest? It's hard enough for today's teenager to focus on something for more than a few seconds. How are you engaging them and creating that anticipation?
Become the "go-to-person." As we've discussed previously, a large part of your job is to be a problem solver. You must provide the prospect and his or her family with the information they want and need to make an informed decision. Arby's says, "We have the meats!" Guess what, you and your team hold the pieces to your recruit's decision puzzle. Make sure you're anticipating their needs and answering all of their questions. For example, right now many families are trying to navigate through the maze known as Financial Aid. Do they understand how to complete the FAFSA? Do they understand that many schools prioritize who gets funding based on deadlines? The more you do for them, the more they'll look at your school as the logical choice.
Provide your customers with a clear, concise message.  Keep your recruits informed, and do so with simple messages that are easily and quickly understood.
Always tell them what's next.  If you can, narrow it down to one thing.  Make it straightforward instead of complicated and time-intensive. You prospects and their parents both want and need to know how the next part of the process works. By doing this you will increase their comfort levels and minimize what can otherwise easily become a stressful time in their lives.
Make appointments. For some strange reason too many counselors continue to pick random times to contact their recruits, and then wonder why they rarely connect. Setting up a date and time to speak with your prospects and parents takes the guesswork out of phone calls. It also helps block out your competition from contacting your prospect. Be sure and have a system in place for tracking these calls, because the worst thing you can do is either forget to call, or mix up one recruit's information with another. It sounds easy enough, but are you consistently doing it?
Don't just deliver, but over-deliver. How you ask? Start by being sincere when you communicate with them. Then deliver more than what they're expecting, specifically during the campus visit. Focus more on why things matter to them during the tour, and provide additional opportunities for personal interaction with your students and other members of your campus community who will be impactful. If you exceed their expectations in those areas, you'll win almost every time.
Deadlines.  Talk about deadlines far in advance. Reiterate when they need to submit specific paperwork, and why sending in their deposits in a timely manner once they've been accepted is vital. Deadlines will keep them focused on the task at hand.
Be where your customers are. More of your prospects are using social media. As a result they expect to be able to engage with you online. Responding to questions quickly and providing behind the scenes content via the various social media platforms is imperative. The more knowledgeable you become about how social media works, the better.
When a prospect chooses another school. Sometimes no matter how great your customer service is, your prospect will choose to go elsewhere. The reasons rarely make sense, but that's the reality. When this happens send them a personal note wishing them well. Tell them you're even excited for them. That kind of service will pay dividends when others around them inquire down the road about your institution, and the overall experience that they received from you.
If you want a team of proven recruiting experts to help you improve your customer service, click here for more information.